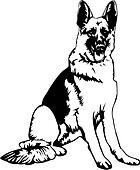 Sometimes dog stories are worth telling and this is one clearly is. If anyone ever questioned the degree of intelligence of a German Shepherd this should solidify how highly intelligent they are.
Our evening ritual before we go to bed is to take a last trip into the bathroom where Carol brushes her teeth and washes her face. Often Bozwell will come in too and sit there waiting to get his face washed with the warm wash cloth. Some times he will take the wash cloth in his mouth and take it out in the living room when we have to retrieve it. Last night he took the wash cloth and left the bathroom as usual. Carol went out to find the wash cloth and it was no where to be seen. She asked Bozwell where it was and he lead her on a trip all through the house pointing his nose to different area's where she would look. She checked every where he indicated and no wash cloth. After she had looked everywhere possible in our small house that Bozwell pointed out to her, she told me she couldn't find the wash cloth anywhere.
I went with Bozwell on a similar search through out the house that Bozwell led me on including the pantry of all places. Finally when I ask him where the wash cloth was we wanted to go to bed he took me into the living room and with his nose pointed to a certain spot in Sarah's bed. I lifted her bed and sure enough there was the wash cloth exactly where he pointed and where he had hidden the wash cloth. He had all on his own invented a game of hide and seek. We couldn't stop laughing as he had taken us all through the house looking for that wash cloth and finally he did show us where he had hidden it.
Did I mention that life is never boring with our dogs? I had been busy all day as had Carol on the computer. Bozwell had come in several times to play and saw we were busy and would go lay down. So before the day ended he invented his own game to play and did he ever pull it off with perfection. He got us both good, and pulled it off without a flaw. He had a good laugh on us for sure.