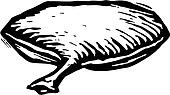 I really love my volunteer work because I meet some really interesting people all over the State and adjoining States. Trying to qualify people to be able to adopt a German Shepherd dog is rewarding - especially when good adopters are found that will be good for the dog and not the other way around.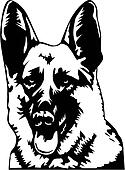 I am probably leaving them with a poor impression of myself as a volunteer though. Many times when I am on the telephone with them our dog Bozwell, will go over to the toy box and pull out this toy he got for Christmas that sounds like a whoopie cusion. He will come over and sit directly in front of me and give the noise maker a good work out. Folks at the other end think I have the worst bowel problems in existence.
Pretty hard to explain that situation to someone on the phone because they don't seem to believe me anyway. I have therefore stopped trying and they can think what they want. Women are just glad that I'm someone else's husband and men - who knows what they think but it certainly changes the tone of the conversation. Either way I have a real problem from laughing out loud when this happens. Who says dog's don't have a sense of humor... not me thats for sure.